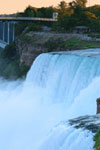 Tour to Niagara Falls with flights
Cena od 12952 Kč
Niagara Falls is one of the most visited attractions within the United States, see for yourself why on our tour to Niagara Falls. It is truly a unique experience that you and your family will absolutely love.

Highlights:
- Visit the breathtaking Niagara Falls
- Get transfer from your Manhattan-based hotel
- Fly from NYC to Niagara Falls
- Explore the falls up close
- Choose between the scenic tunnel or a boat ride
- Enjoy an amazing lunch with views of the falls
- Learn more about the incredible falls

Experience the breathtaking Niagara Falls
Unlike other tours you not only get to view the falls but you also get to experience them in a unique fashion. The package includes hotel pick-up, your airfare from New York City to upstate New York and transfer from the airport to Niagara Falls - and back again.
Niagara Falls actually consists of three different waterfalls (the American Falls, Horseshoe Falls and Bridal Veil Falls) that straddle the international border between the United States and Canada.

The tour also includes an exquisite lunch at a panorama restaurant that provides a view of the falls.

Get Behind the Falls or Ride the Maid of the Mist Boat
You also get a choice of participating in two possible excursions: Journey Behind the Falls or Maid of the Mist Boat Ride. The Journey Behind the Falls is a tour behind the falls through scenic tunnels.

or

You can choose the Maid of the Mist Boat Ride where you go through the falls by boat and see the incredible waterfalls up close while your guide tells you about the natural monument.

How do I get my tickets?
Shortly after your booking is complete your e-ticket will be sent directly to your email, just print it out and bring it on your tour.

Where does the tour start?
This tour includes hotel transfer at hotels between 23rd Street & 74th Street. If you are staying under 23rd Street or above 74th Street, we kindly ask you to contact our vendor Grayline New York 2-3 days in advance to arrange your pick-up point. Contact information will be stated on your e-ticket.
You'll be asked to give us the name and address of your hotel as part of the booking process.
Where does the tour end?
Your tour ends back at your hotel.

How long does the tour last?
You'll be picked up from your hotel early morning (between 4:45 AM and 9:30 AM depending on flight schedule). You'll be back in New York City early evening (between 7 PM and 9 PM depending on flight schedule).
What's included?
Roundtrip airfare between New York City and upstate New York, hotel transfers in Manhattan to/from upstate New York airport and to/from Niagara Falls, half-day guided tour of Niagara Falls from both sides, a boat cruise (May-October) or Journey Behind the Falls (November-April) and a full buffet lunch.

What languages is the tour available in?
The tour is operated in English. German, French and Spanish is available upon request.
Do I need to bring my passport?
You need to bring your passport if you are a non-US citizen and your passport or special documentation if you are a US citizen.

Do I need a visa for this tour?
US Citizens:
US passports or special documentation are required to cross the border. For up to date info please review Department of Homeland Security website: http://www.dhs.gov/files/crossingborders/travelers.shtm

Non-US citizens:
You need to bring your passport and you may also need to require a Canadian visa. Check with our local Embassy or Consulate.

What happens if I don't have the proper documentation?
- If you don't have the proper documentation you may still book this tour. However, they must remain on the US side of the Falls. This time will be on your own, without a tour guide or escort) You will still view the Falls and get tickets for Maid of the Mist or Scenic Tunnels, all from the US side and you'll get provided lunch money.

Are there children's tickets?
Yes, children's tickets are available for children between 18 months - 11 years. Children under 18 months are free when accompanied by a paying adult.

All children are required to have a reservation in order to participate in the tour.

Important information:
- A car seat or a booster seat is required for children under 8 years of age.
Tour to Niagara Falls with flights Info
Tour to Niagara Falls with flights
The tour includes transfer from hotels located between 23rd and 74th Street on Manhattan.

Info
Tour to Niagara Falls with flights
The tour operates daily, year around.
Pokyny
Pokyny
See a map over Manhattan below:



Podívejte se na mapu